National Security Officer Appreciation Week: September 18-24, 2022 Valley View Early College Campus Security Team, Thank You For All You Do!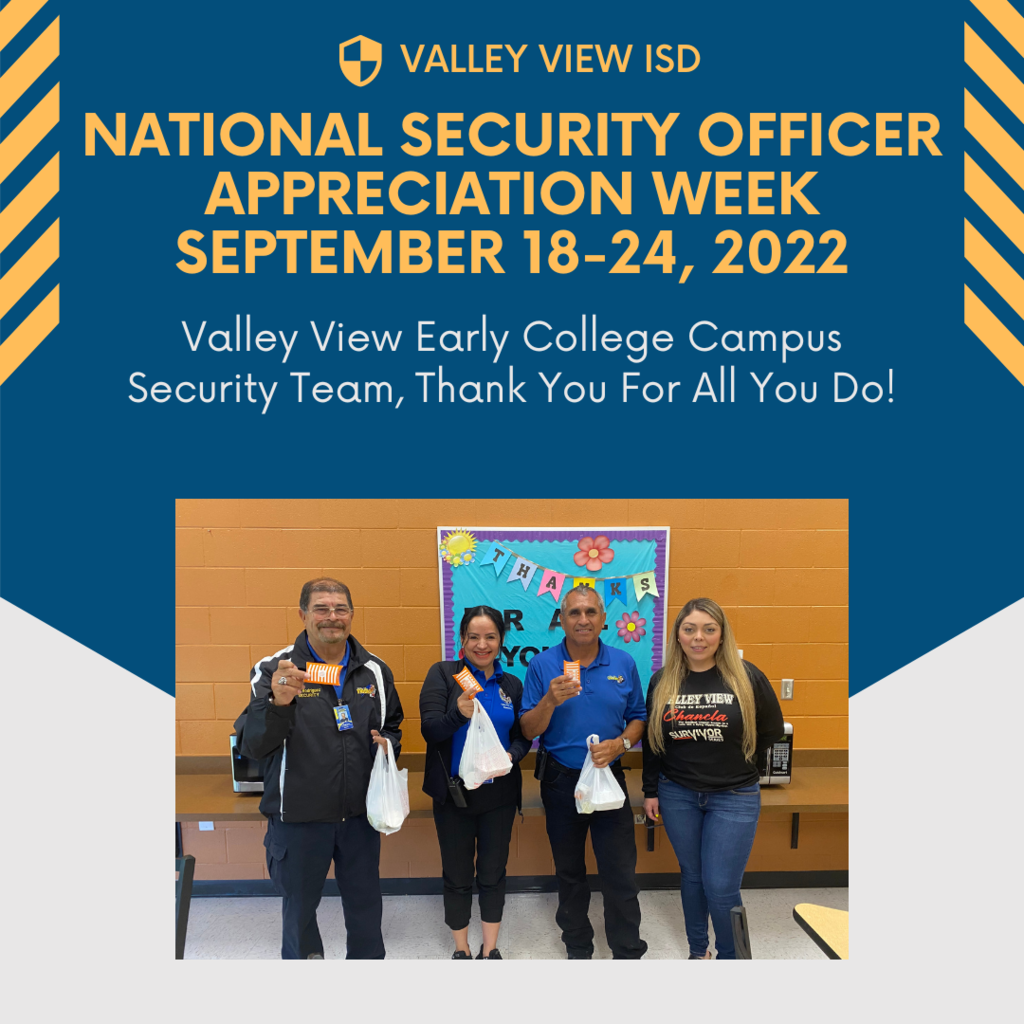 IT Professional Appreciation Day: September 20, 2022. Valley View ISD Technology Team, thank you for all you do!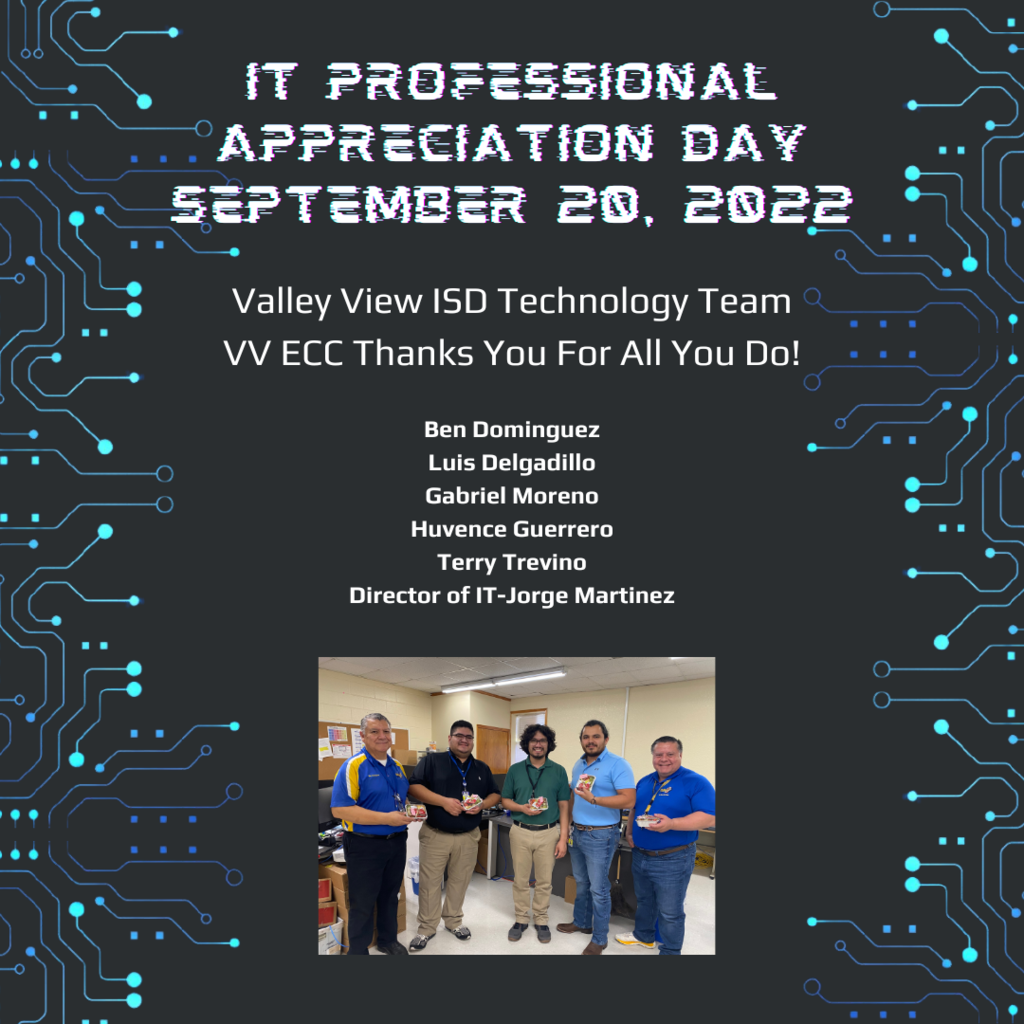 ECC Students will be Testing all of next week Sept.26-30th. Parents please make sure your child is NOT absent. On Monday Sept.26 and Tuesday Sept. 27, 9th graders who have HS 1st period MUST report to ECC in the morning for testing-not to high school. Also, Gear Up Week is next week:
https://5il.co/1i3tp
Let's have fun and dress up!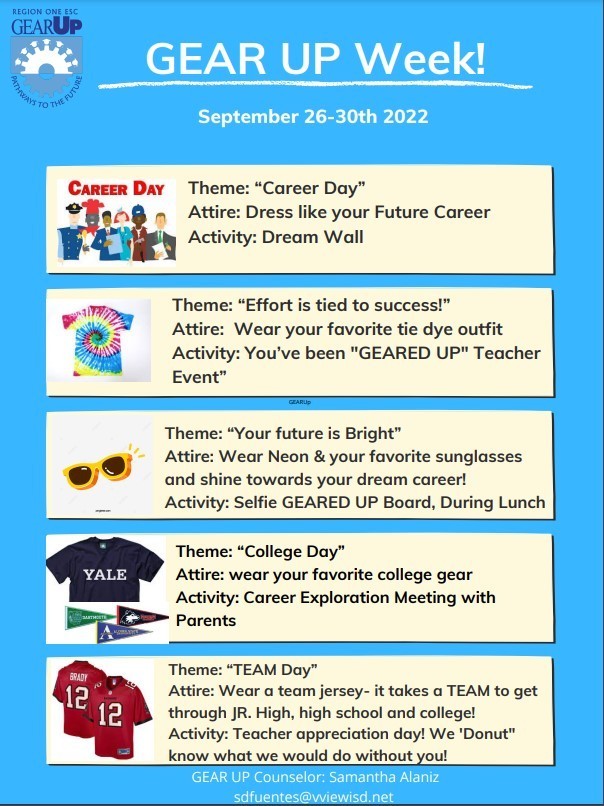 VV ECC Parents: TEA requires a Family Income Survey for Every Student. Please SIGN & RETURN Survey with your child tomorrow, Wednesday Sept.21st. ONLY Students who RETURN the SURVEY tomorrow Wed. Sept.21 will get a Freestyle Wristband. Wristband is for freestyle attire on Thursday, Sept. 22.
https://5il.co/1i8kl

Thank you ECC Parents/Guardians for joining us at our Frist PTO/Progress Report/HB4545/Meet the Teacher/Campus Tour Event this past Wednesday, Sept. 14th. We had 115+ parents in attendance. Thank you for making a difference in your child's education. Together we can accomplish more!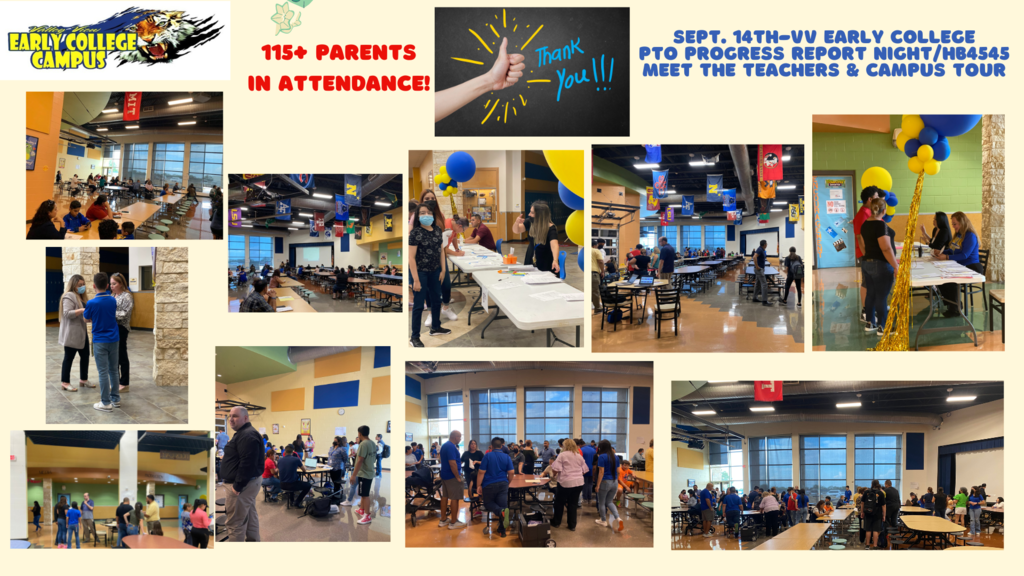 Dear Parents, if you child uses VVISD bus transportation then Download the UniteGPS app today! You can monitor in real-time the LOCATION of your children's bus journey. UniteGPS has SENT a registration link to your Email listed at our school. You must open the email and activate your account.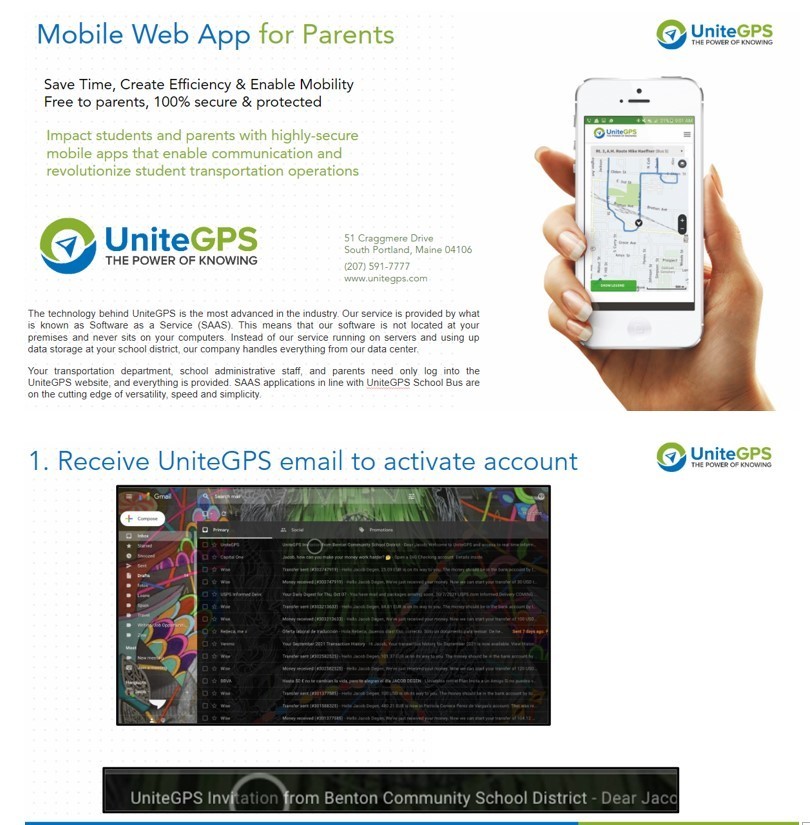 Dear VV Early College Parents/Guardians. We invite you to attend our First Meet the teacher/Progress Report Night on Wednesday Sept.14th at ECC Cafeteria from 5pm-6:30. Pick up Progress Reports, Meet the Teachers and Tour the ECC campus. See flyer for info: Estimados VV Early College Padres/Tutores. Los invitamos a nuestra Primer dia de calificaciones/conozca los maestros este proxmo miercoles 14 de Septiembre en la cafeteria de ECC de 5pm-6:30. Boletas de calificaciones seran entregadas y haga un recorrido del plantel. Vea aqui mas informacion: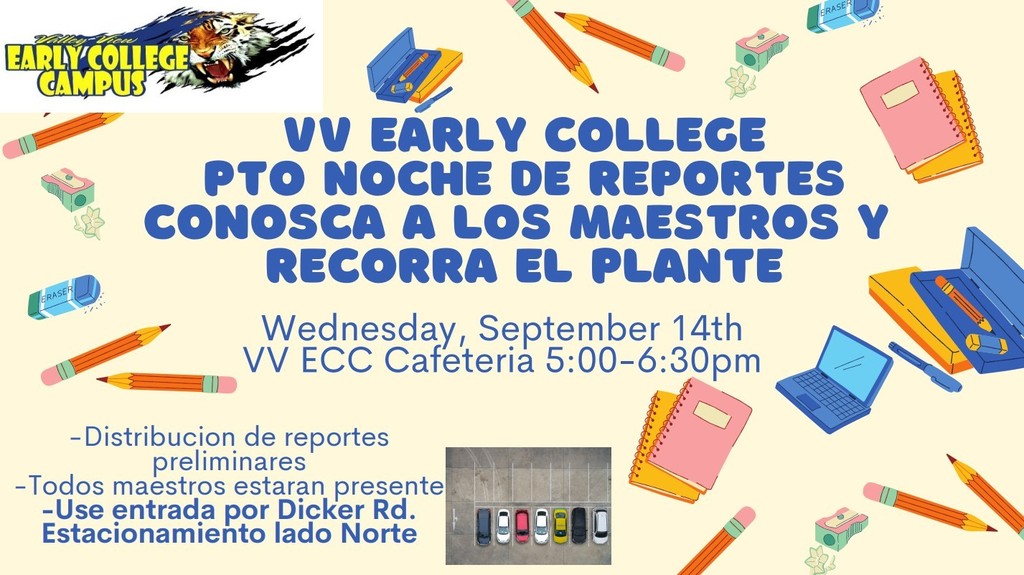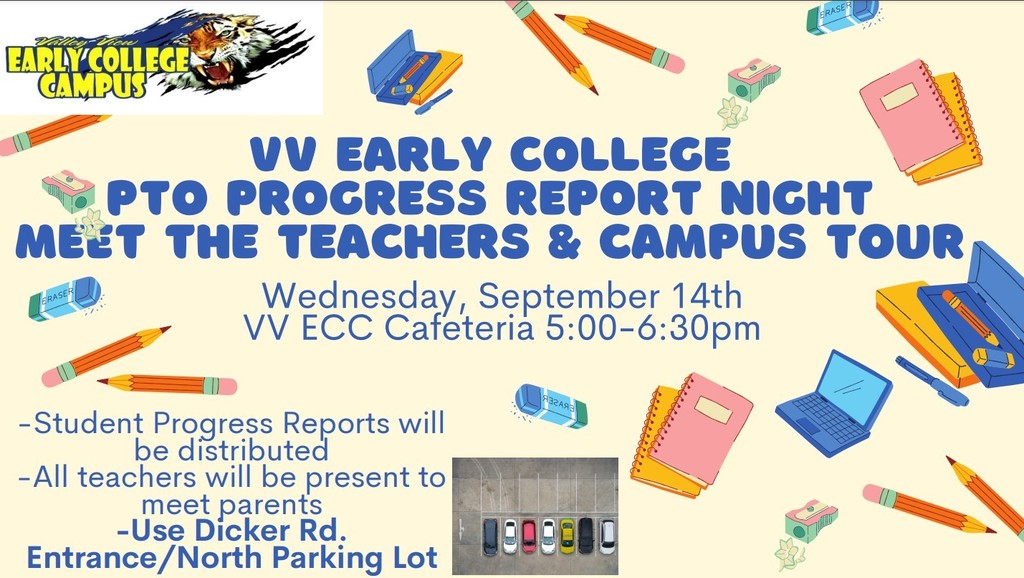 Hello ECC Tigers! Join us in celebrating National Hispanic Heritage Month by purchasing a Tiger Spirit Shirt! These awesome shirts are for sale to all ECC staff and students. Student spirit shirts can be worn on Fridays. ECC students can place an order with their 1st period advisory teacher. The shirts are as shown in the image below. Black, long sleeve, dri-fit and colorful! You don't want to miss out on buying this! Only available for a limited time! Youth Sizes: $20, Adult sizes: $22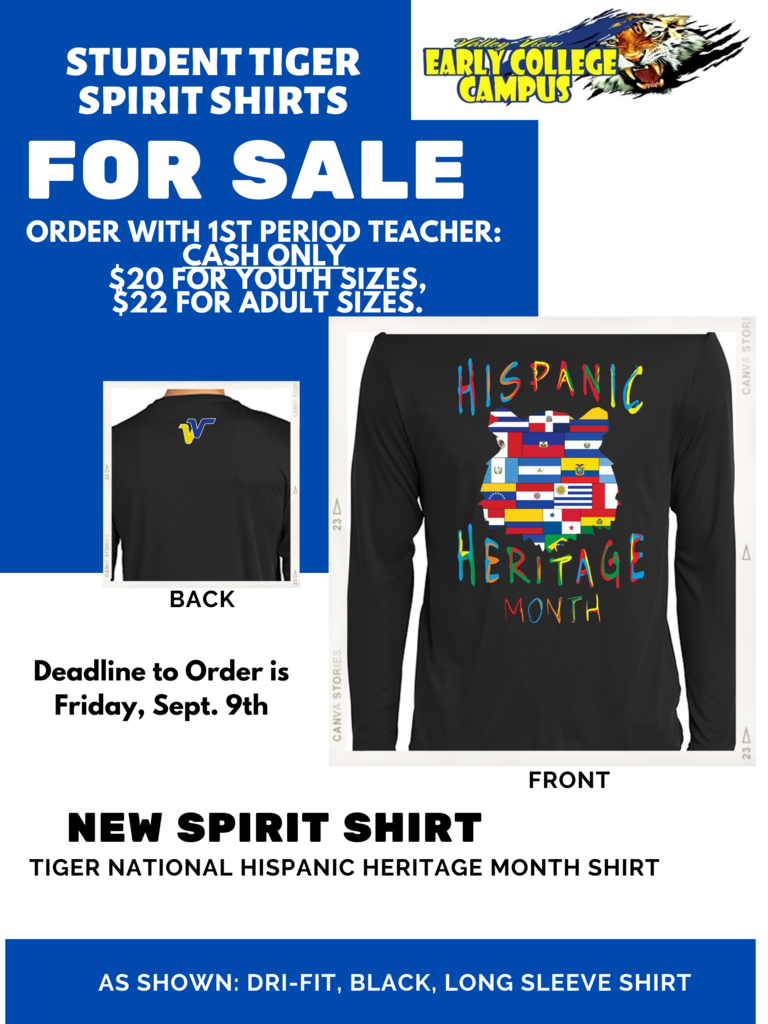 Please join Valley View Early College Campus community on Bloomz! Bloomz is a new app that works both on your smartphone as well as on your computer. You will receive quick updates and photos of community activities, be able to access our community calendar, and more. All in a private and secure environment. 1. Download the "Bloomz" app from the AppStore/PlayStore and click on "Enter Code". If browser, go to bloomz.com and click on "Join Bloomz" followed by "Enter Code" 2. In the text box, enter 6PE373 3. Create your account Por favor unirse a al comunidad Valley View Early College Campus en Bloomz! Bloomz es una nueva aplicación que funciona tanto en su teléfono móvil, como en su computadora. A través de ella, usted podrá recibir actualizaciones, fotos de actividades en el salón de comunidad, tener acceso al calendario de la comunidad y mucho más. Todo en un ambiente privado y seguro. 1. Descargue la aplicación de Bloomz del AppStore/PlayStore y dé click en "Create Account". Si está en su navegador, vaya a bloomz.com y dé click en "Join Bloomz" 2. En el espacio designado escriba el siguiente código: 6PE373 3. Establezca su cuenta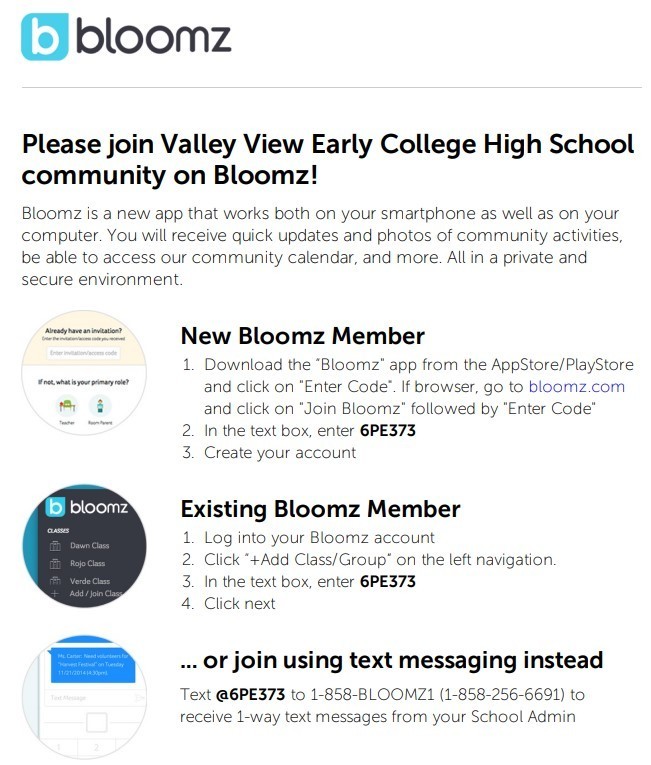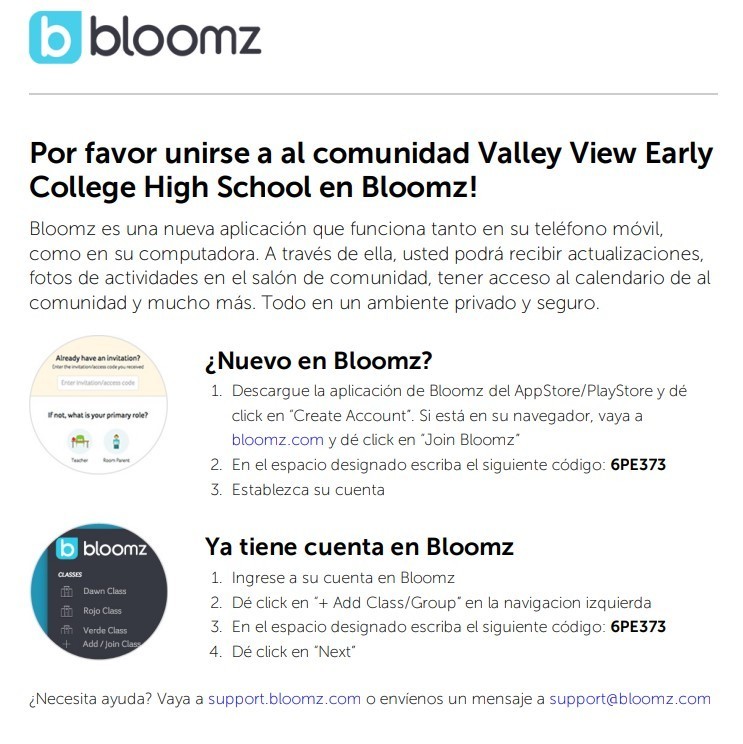 Valley View ISD community, please join us by wearing maroon on Tuesday, September 6, 2022. We stand in solidarity with the Uvalde CISD community as they return for their first day of school. All students and staff are encouraged to participate.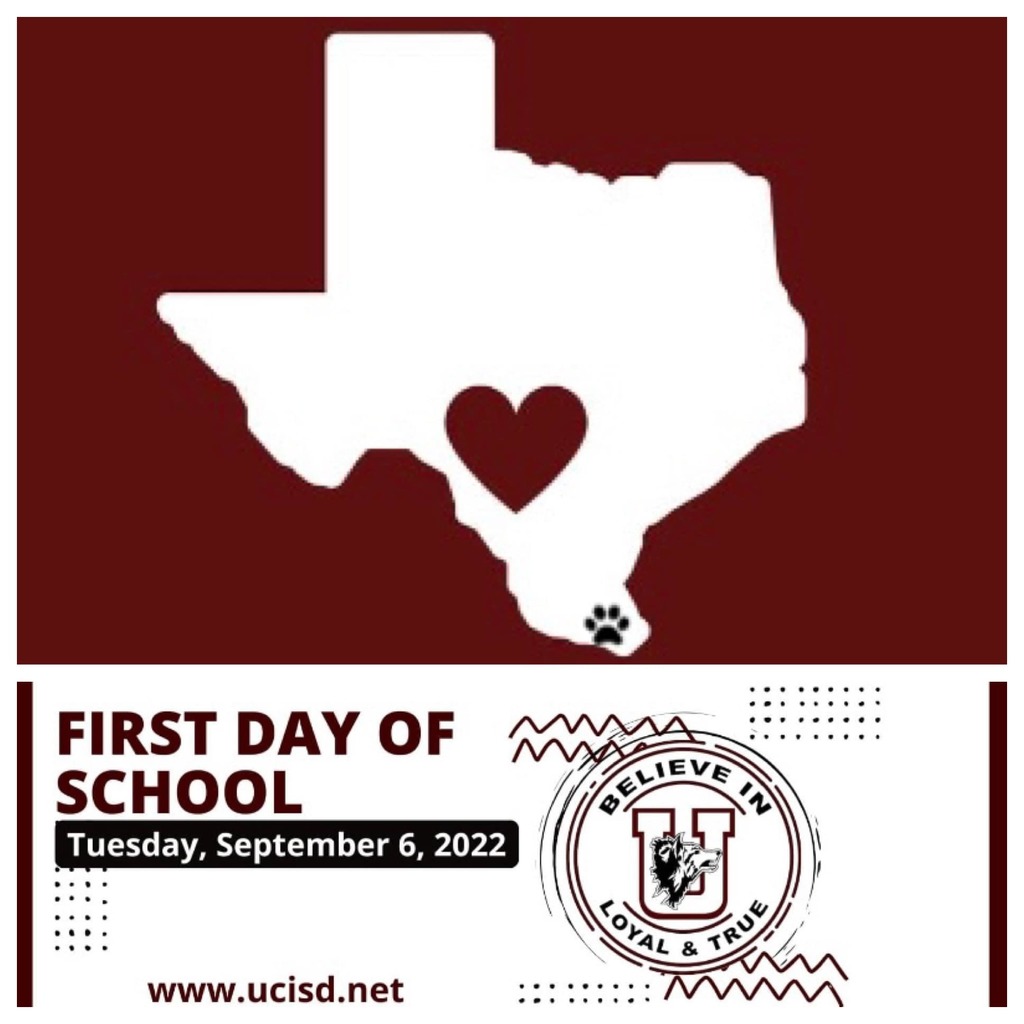 ​Good day ECC Parents/Guardians. Friendly reminder that all 9th grade uniforms were available since before school started. All 9th graders should have a uniform by no later then Monday, September 5, 2022. Failure to do so may result in disciplinary consequences. Parents/guardians in need of assistance may call the Federal Programs office 340-1000 to make an appointment to go by and fill out an application for uniform assistance. 8th grade uniforms arrived this week. If you have an 8th grader, please make arrangements to purchase the uniforms, $18 each. You may go by the ECC office to purchase or give the student money to purchase the uniform at the ECC office.​ Thank you in advance.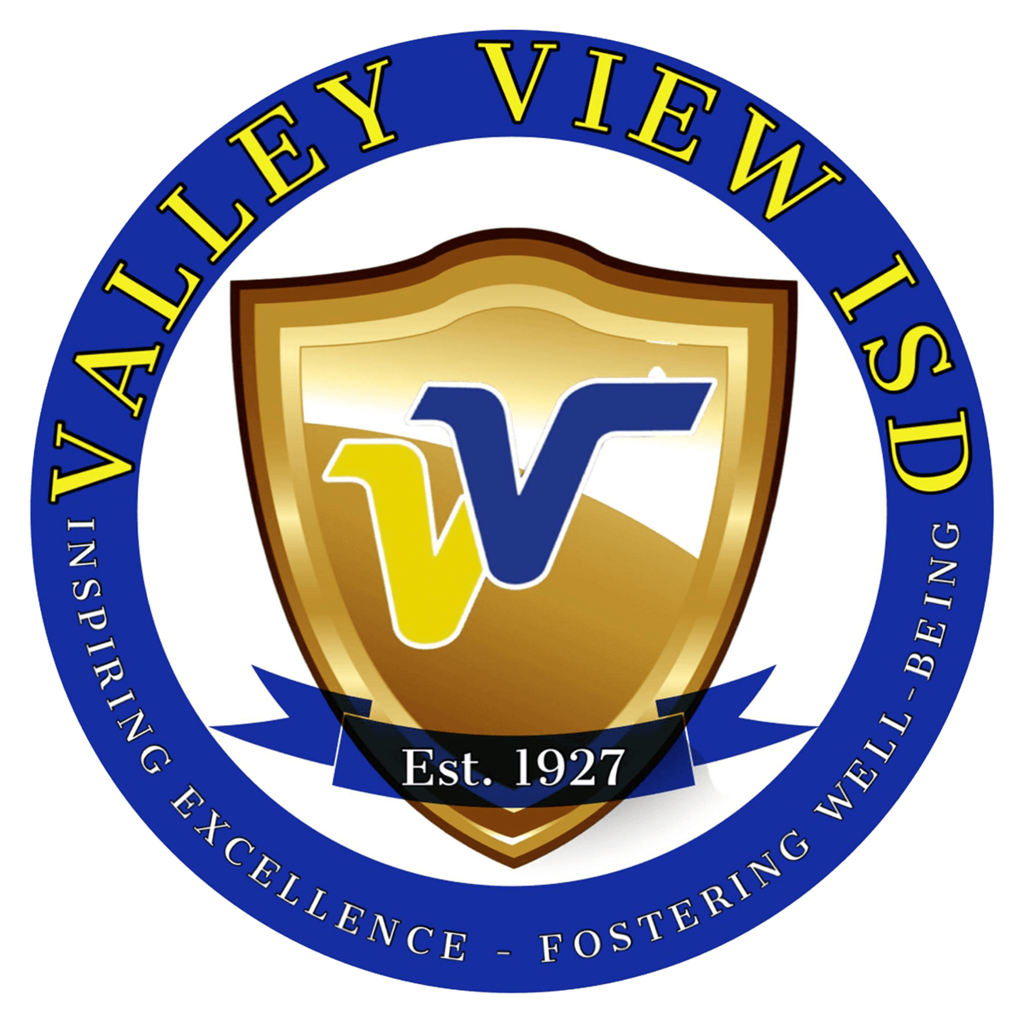 Road Maintenance Letter to Parents

Monday, August 22nd is the first day of school! Get excited Tigers!! This message only applies to VVECC 9th grade students who have 1st period high school sports/fine arts. All students must report to ECC (home campus) on the 1st day of school NOT to the HS. Thank you.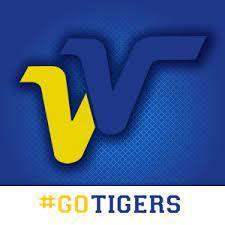 Welcome to Early College Campus 2022-2023 school year. Here are some important parent reminders. Bienvenidos al año escolar 2022-2023 de Early College Campus. Aquí hay algunos recordatorios importantes para los padres. First day of school is Monday August 22nd. Primer dia de clases escolares es el lunes 22 de Agosto. Student polo uniform shirts are sold at VVECC front office. If the uniform shirt is not in stock, please have your child wear a blue shirt or a valley view spirit shirt. Uniforme polo de estudiantes se venden en la oficina. Si el uniforme no esta en inventario, su hijo/a puede usar una playera azul o una playera del distrito valley view.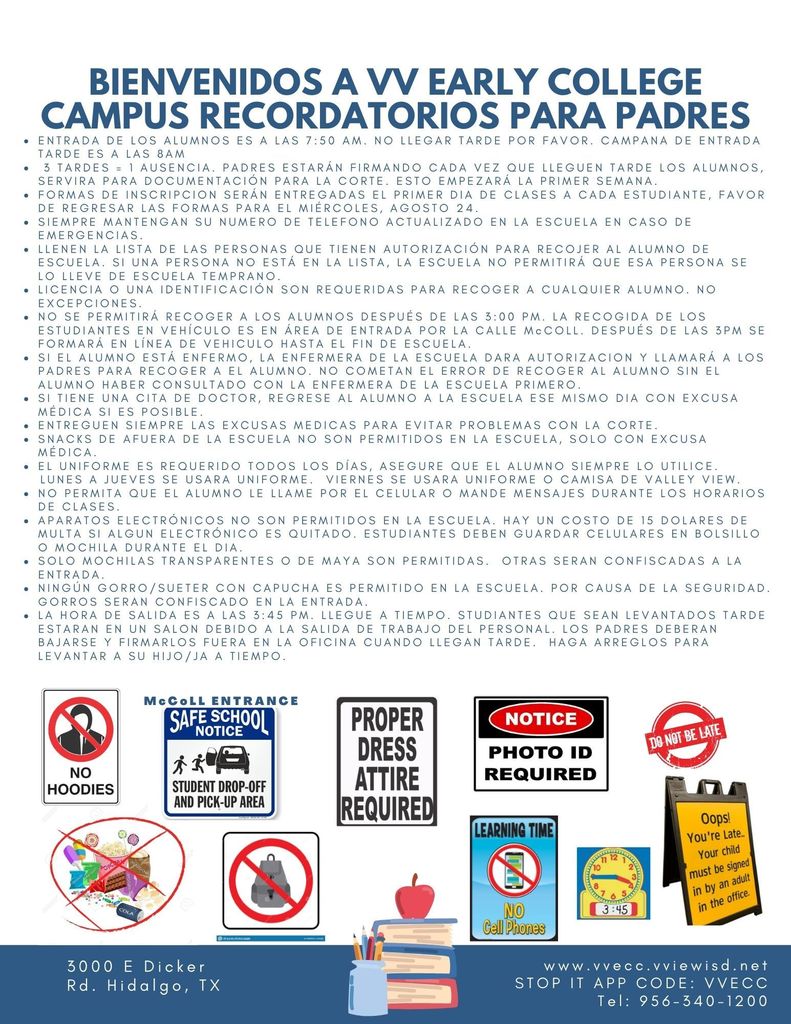 We will be having our Student Electronic Device Distribution Drive-Thru Event this Wednesday August 17th from 9am-2pm. Follow these easy steps: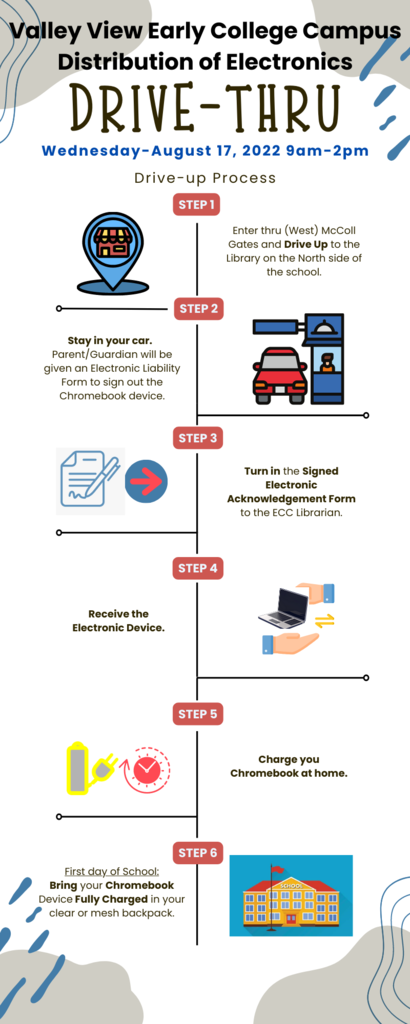 Come see us at tomorrow's VV ISD BACK TO SCHOOL EXPO at Payne Arena 3-7pm. At our ECC table you can: --Buy Student Uniforms --Sign your student's Electronic Device form. By signing the Form the day of the Expo, your child will receive the student Chromebook on the First Day of School. You WILL NOT need to attend the Drive-Thru Device Event scheduled for Wednesday August 17th. --Buy Student Jackets (without hoodie) --Get School Flyer of information for the First Day Of School --View your child's Schedule --Pick Up your child's School Supplies

Join Us for Valley View ISD's BACK TO SCHOOL EXPO! August 16th from 3pm-7pm at Hidalgo's Payne Arena *School supplies will be distributed to parents on site.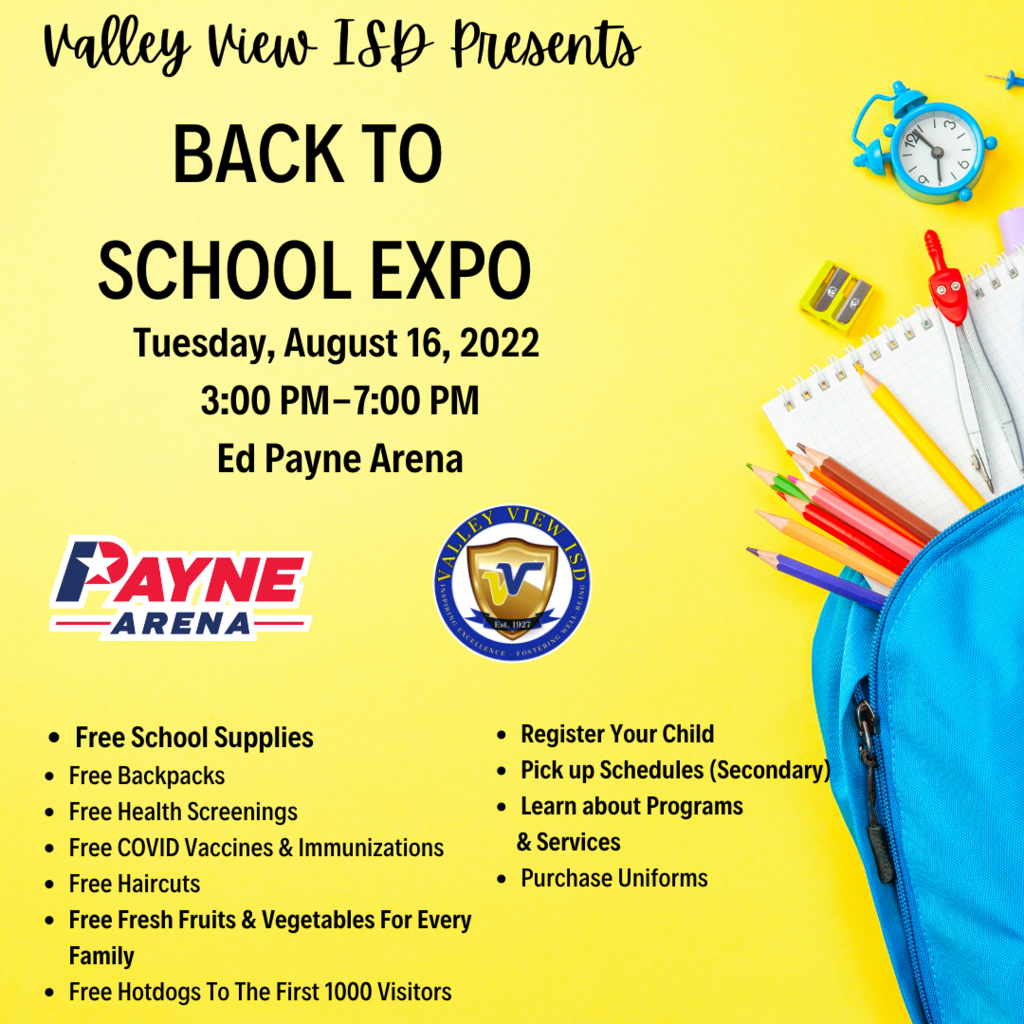 Valley View ISD Town Hall Meeting. Asamblea Publica. Topic/Tema: School Safety/Seguridad de Escuelas.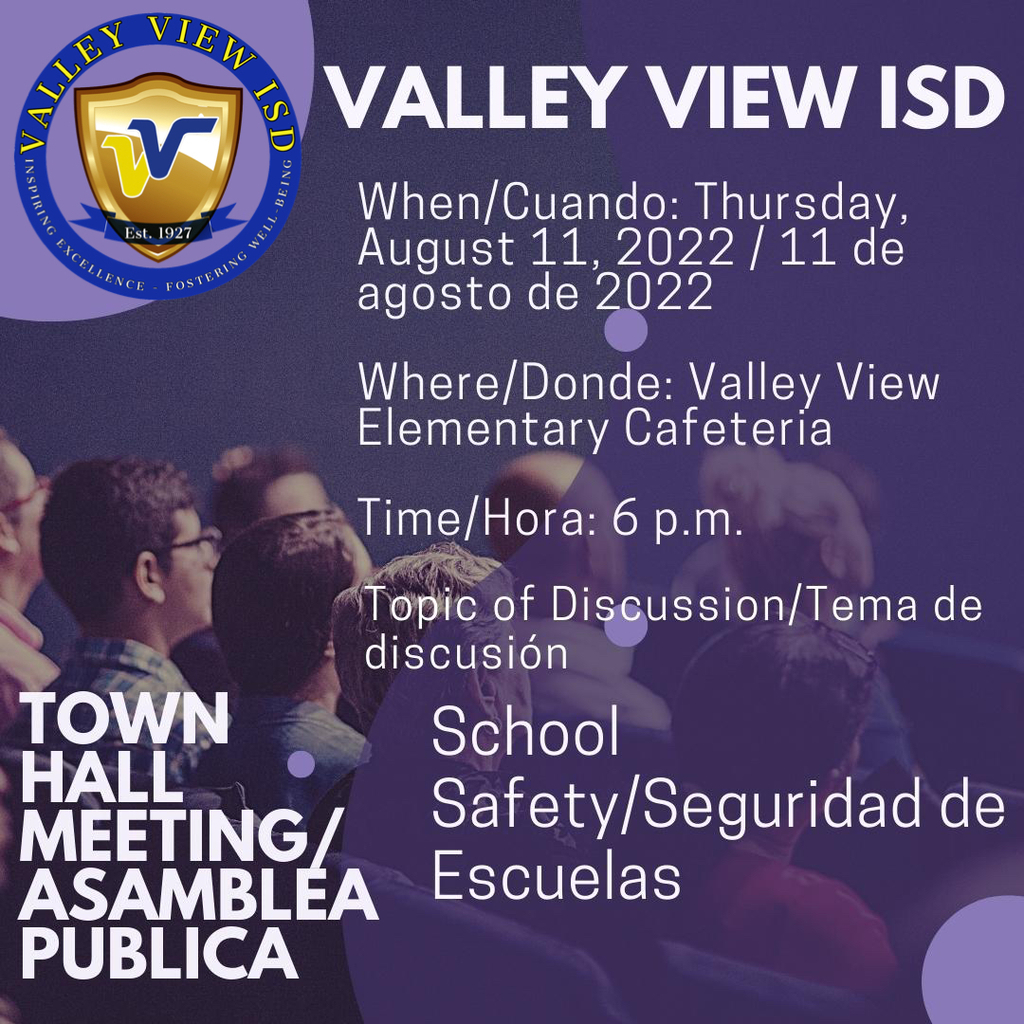 2022-2023 VVISD Secondary Schools Supply List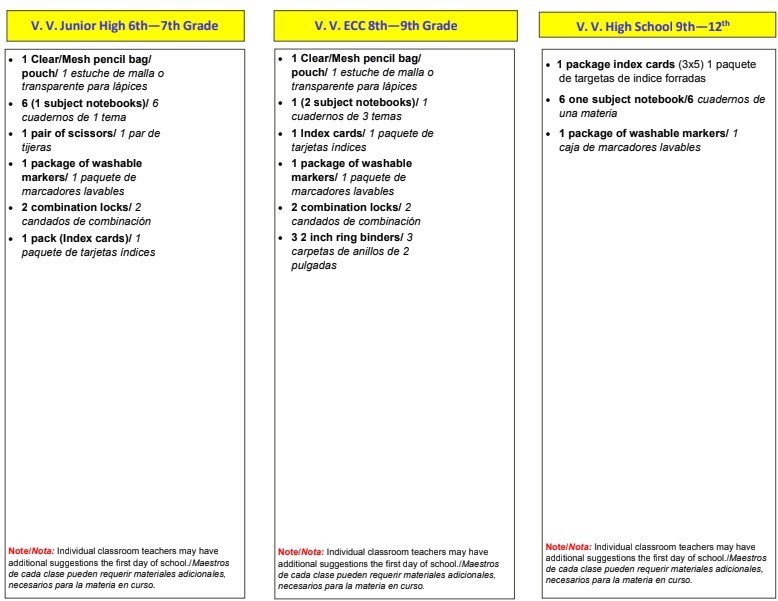 2022-2023 VVISD Secondary Schools Bell Schedule